Alley Art Celebration
About the Project
When "Love Where you Live" author Peter Kageyama visited Montgomery County in 2018, he held a workshop with a small group of Montgomery County residents that concluded with an exercise brainstorming new, exciting projects to enhance the community.
This led to a conversation of bringing art to historic downtown Crawfordsville. The idea gained momentum when the Wabash Heartland Innovation Network (WHIN) awarded a grant to the Tippecanoe Arts Federation (TAF) to install murals in the 10 county WHIN region for a project known as "WHIN Walls." The Montgomery County Community Foundation also pledged additional funding for the installation.
A local planning committee, with the help of TAF, has worked to make this idea a reality. Downtown Crawfordsville will soon see a new mural in the alley between the Montgomery County Community Foundation and Milligan's Flowers and Gifts at 119 E. Main Street.
About the Artist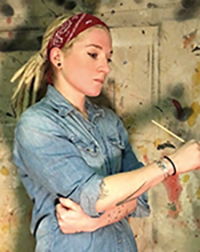 Jenna Morello is a muralist from Brooklyn, New York whose work can be found all over the country. Her vibrant, unique designs have resulted in many different commissions, including a floor of 4 World Trade Center, a component of the rebuilt World Trade Center Complex in New York. In 2015, Jenna appeared on "Street Art Throwdown," a reality-competition series on the Oxygen Network. While she specializes in murals and street art, Jenna also creates glass and mixed media pieces. You can learn more about Jenna and see her work here.
She is scheduled to be in town from September 23rd – October 5th and the community is welcome to stop by anytime to watch her paint. Jenna's typical daily schedule will likely be from 7:00 a.m. to 7:00 p.m.
What will the Mural Look Like?
In the spirit of surprise, a full rendering of the mural will not be released ahead of time. Make plans to visit downtown Crawfordsville to see Jenna's incredible talents in action! If you can't make it, daily updates will be posted to the MCCF Facebook, Twitter, and Instagram pages.
Scheduled Events
In addition to her daily work, the community is also invited to attend the following scheduled events to celebrate the new piece and Jenna's visit.
Saturday, September 25

Coffee and Donuts with Jenna- 9:00-11:00 a.m. 

Spend your Saturday morning downtown! MCCF will be serving free coffee and donuts on Main Street to enjoy while watching Jenna bring the alley walls to life.

Saturday, October 2

2021 Art Walk- 10:00 a.m. – 3:00 p.m.

This annual event, sponsored by the Art League of Montgomery County, features local art on display in downtown merchants' windows. Pick up a map and explore all of the talent in our community!

Dedication of the Wall- 11:00 a.m. 

Hosted by the Art League of Montgomery County and the Montgomery County Community Foundation